Hemp farming in the United States is becoming more commonplace for agriculturalists.
Surrounded by hemp plants that rose to his waist, Andy Huston, a sixth-generation farmer from the state of Illinois, stopped to admire one of the striated green leaves.
"I could spend all day in my hemp field pulling up weeds," Huston said.
This year, Huston planted corn and soybeans, about 400 acres of each, as he has done for decades. However, Huston depends on a hemp plot of just 7 hectares to save his finances, which are at risk.
Illinois becomes an attractive spot for hemp farming in the United States
The farmer thinks that this alternative crop will be especially important this season.
Floods in the Midwest kept some fields moist until late in the planting season. In addition, farmers are struggling because of the trade war with China, which has damaged exports of U.S. agricultural products like soybeans.
"Every time I plant corn and soybeans, it's a risk," Huston said.
He hopes the growing popularity of CBD (cannabidiol) will help him make a profit.
In December 2018, the federal agrarian law removed a ban that classifies hemp as a controlled substance equivalent to heroin. The change coincided with the sudden popularity of CBD, which some say can alleviate ailments ranging from depression to menstrual cramps.
Some states had already allowed farmers to grow marijuana because they had interpreted the early federal provisions as permitting commercial production.
Other states responded by legislating in favor of marijuana cultivation.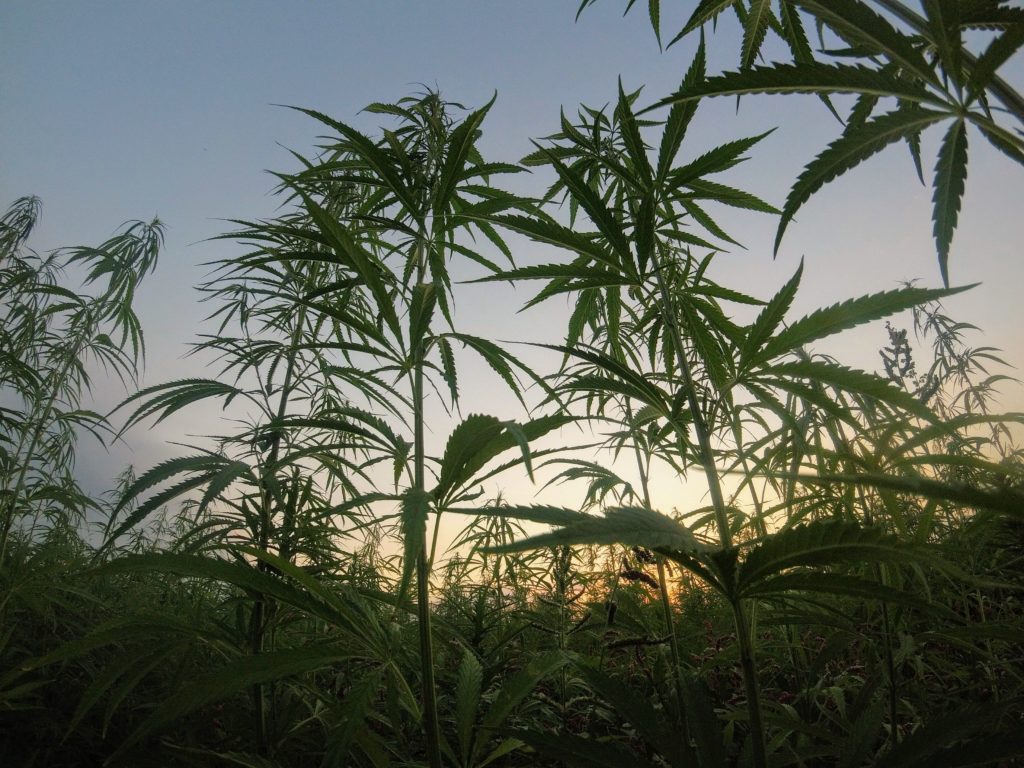 Law makes way for crop expansions
Illinois is one of 13 states planting hemp for the first time this year, according to Vote Hemp, an activist group.
Approximately 116,000 hectares of hemp were planted across the United States compared to 31,500 hectares in 2018, according to Brightfield Group.
Also according to Brightfield, about 87% of the hemp grown this year will be used for CBD.
"It went from very little to very much," said Tyler Mark, an agricultural economist at the University of Kentucky who studies hemp.
Hemp and marijuana are varieties of cannabis Sativa that differ in the amount of the psychoactive chemical they produce. Marijuana is rich in THC, the psychoactive component, and hemp is richer in CBD.
However, this difference can confuse lawmakers and law enforcement, partly because hemp looks (and smells) like marijuana.
"People just don't understand what hemp is," said Jeffrey Cox, chief of the Illinois Office of Medicinal Plants.
He oversaw a small hemp field at this summer's state fair where the new crop was introduced.
"I had to explain to hundreds and hundreds of people that it's not marijuana."
Farmers grew hemp in U.S. fields until the 1930s. Back then it was included in federal legislation banning marijuana.
Even then, it was not eradicated: wild hemp is often called "ditch grass".
Hundreds hope to begin hemp farming in the United States
This year, about 1,000 farmers in Illinois applied to grow less than 9,000 hectares of hemp, according to John Sullivan, director of the Illinois Department of Agriculture.
That's a tiny figure compared to the hectares of corn (4.5 million) and soybeans (4.3 million) planted last year. But some see it as a necessary alternative.
"Our corn and soybean producers have lost customers," said Illinois Governor J.B. Pritzker, "and when you have an important customer and you lose a year, it's very difficult to get it back."
Huston, who voted for President Donald Trump and intends to do so again, said he believed the president had good intentions in his commercial confrontation. Although, like other farmers, Huston said he was frustrated and had suffered the effects.
"It's a bad way to do business. If we end up with better markets at the end of this, it will have been worth it. But I don't know if that's likely," he said.
Among farmers, Huston is a promoter and expert on hemp. Last year, he was the only person in Illinois to grow hemp as part of a research project with the University of Western Illinois (WIU).
Hemp farming in the United States for CBD isn't easy
The federal government has not approved any pesticides for hemp, which makes labor costs high, as the fields must be manned.
Male plants must be eliminated because a pollinated female stops producing CBD. Hermaphrodite plants, which develop male and female flowers, self-pollinate and must also be eliminated.
Ann Knowles and Will Terrill, owners of Prairie Smoke Herb, a hemp farm in Colchester, Illinois, said they had difficulties with their first crop.
"It's frustrating. I would love for hemp to become what tobacco used to be. Enough for people to pay their taxes, even if it's only a few thousand dollars a year," Terrill said.
Knowles and Terrill bought hemp seeds that were cheaper but included male and female DNA. About half ended up being useless.
Andrew Smith, another farmer, had the same problem. His nearly one-hectare field in Monmouth, Illinois, had yellow flags scattered everywhere to mark the male plants he needed to pull up.
In the middle of a row, the flags disappeared. He had used so many the day before that he ran out.
Many farmers still hopeful with hemp
Huston predicts he could sell the hemp he's growing to get CBD for up to $65,000 per acre. But closer to the harvest season, he said, "Everything is still tentative."
Experts, academics and industry officials predict a much lower yield range, from $14,000 to $40,000 per acre to just $6,000 per acre.
"We're in a kind of green fever here. There's too much enthusiasm and I don't think it's sustainable," said Kevin Pilarski, commercial director of Revolution Enterprises.
Either way, some farmers like Huston are hopeful. "You don't want to be the one who lost your family farm. I think that's my incentive," he explained as he passed by the house built by his great-great-grandfather.
The house is now across the street from his hemp field.

__
(Featured Image by Karsten Würth)
First published in infobae, a third-party contributor translated and adapted the article from the original. In case of discrepancy, the original will prevail.
Although we made reasonable efforts to provide accurate translations, some parts may be incorrect. Hemp.im assumes no responsibility for errors, omissions or ambiguities in the translations provided on this website. Any person or entity relying on translated content does so at their own risk. Hemp.im is not responsible for losses caused by such reliance on the accuracy or reliability of translated information. If you wish to report an error or inaccuracy in the translation, we encourage you to contact us.